19 May 2017
Vetrazzo Pink Pairings
Vetrazzo Blog
Article by: Steven Shrenk
Date: May 19, 2017
4 MILLENNIAL PINK PAIRINGS TO MAKE EVEN YOUR COUNTERTOPS BLUSH
Millennial pink has taken over everything, and don't expect it to go away anytime soon. From fashion, hair color, and makeup palettes, to paint colors, furniture and kitchen appliances, this cheeky, sincere, and nostalgic color has invaded the lives of not only millennials, but also gen xers.
Pink won't make it into my home palette of black and neutrals, but with the reach it's having, designers and homeowners can't ignore it.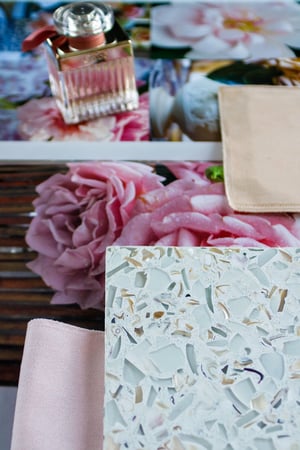 It's not just one shade of pink, either, or even a new hue. Versions of millennial pink (also known as tumblr pink and scandi pink) have been around since 2012. However, in the summer of 2016, the color mutated and expanded to include a range of shades from beige with just a touch of blush to a peach-salmon hybrid.
You could argue that millennial pink isn't so much a color as it is an idea. (This could be why there's such great difficulty in pinning it down to a single shade.) Véronique Hyland of The Cut says, "It's ironic pink, pink without the sugary prettiness. It's a non-color that doesn't commit, whose semi-ugliness is proof of its sophistication."
Color trends change often in the world of interior design and millennial pink is definitely having a moment. While some designers consider it abrasive, others find it warm, inviting and surprisingly versatile.
You can integrate millennial pink into your interior designs by painting the room (or just a single accent wall), or incorporate it into rooms with accessories, furniture and appliances. Elle Décor lists the fourteen best shades of millennial pink, according to interior designers.
These pinks turn out to be a perfect pairing for the subtle shades of the latest recycled glass colors in our designer collection – Vetrazzo Fair Pearl and Vetrazzo Aqua Current from the Vetrazzo By Laura U.
The unique blend of neutral and blush shades with a pearly iridescence make Vetrazzo Fair Pearl a natural in the kitchen or bath. The crystal blue waters and calming waves of the Miami coast inspired the soothing combination of seafoam green, aqua, white and sparkling mirrored glass featured in the Aqua Current colorway.
The Laura U line of colors, designed by Laura U Interior Design, is actually made with bio-resin instead of concrete making it ultra durable and allowing for diverse applications. Designers can use the 1 cm slabs to get that thin edge profile. Furniture, such as contemporary accent tables and floating shelves, can be designed with the surfaces. They can also be cut into large-scale floor tiles like 3×3, which is really interesting application.
Here are four match ups with Fair Pearl and Aqua Current inspired by millennial pink shades.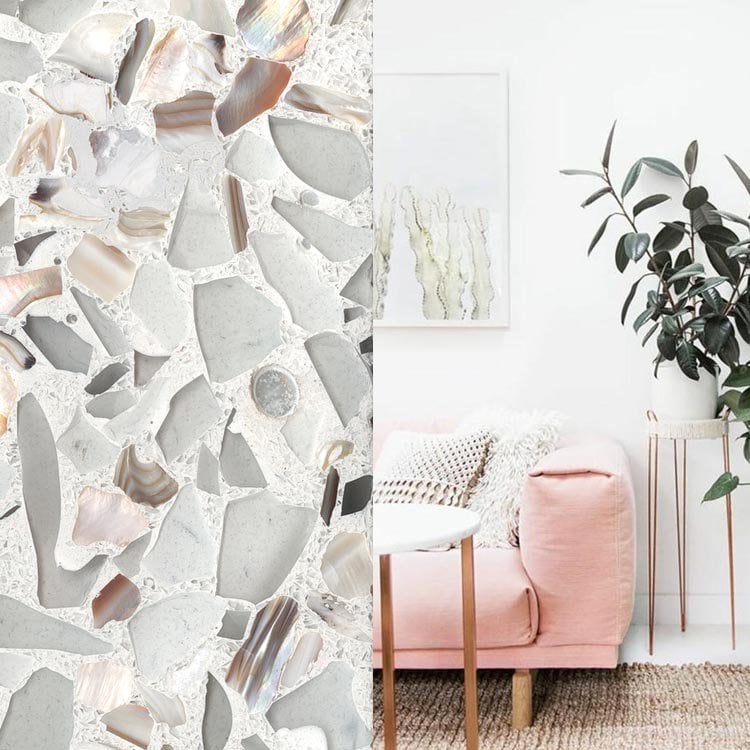 Fresh Design Pedia shows us that millennial pink is an excellent solution for an airy interior design with its own charm. Vetrazzo Fair Pearl plays off the blond woods and rose gold accents for a sophisticated and modern design.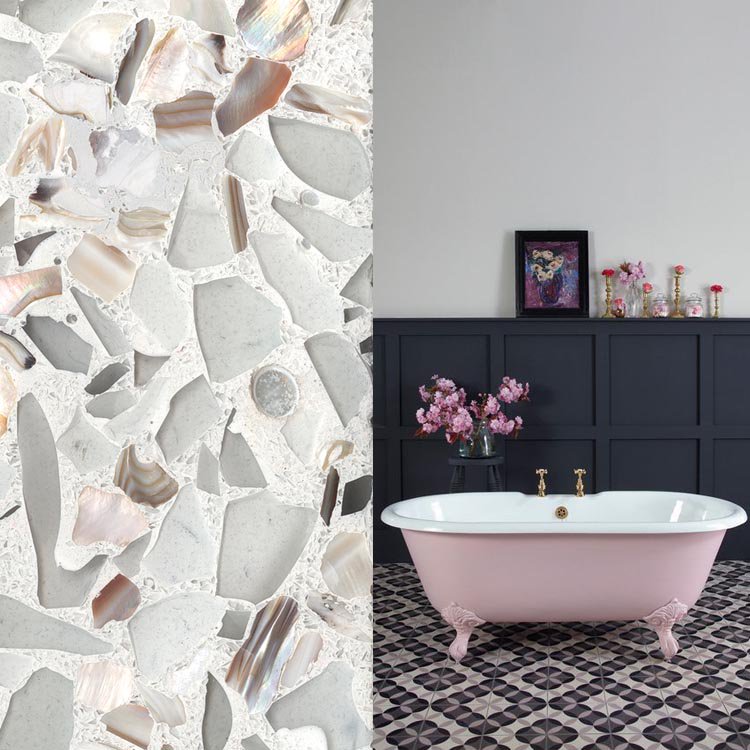 Why wouldn't you want a glamourous pink bathtub in your bathroom?DailyDreamDeco suggests matching it with some chess tiles or some tiles in an artsy print and neutral colors and for a modern and glamorous bathroom. Vetrazzo Fair Pearl floor tiles or recycled glass countertops make a neutral complement to this pretty pink bathtub.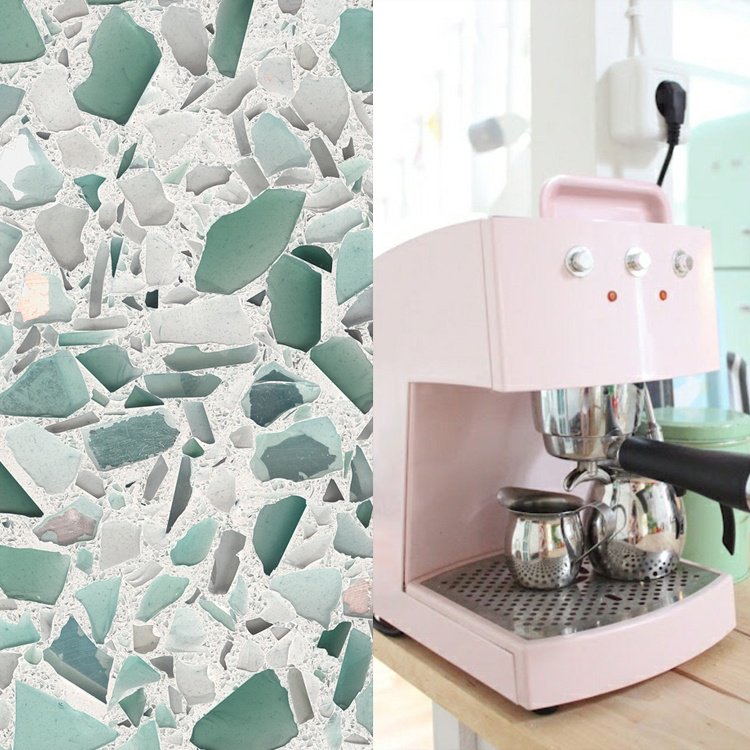 Fresh Design Pedia points out that kitchen appliances are the first thing that attract our attention when we enter the room. The big decor trend was once to hide kitchen appliances, but that's changing. Rather than just blend in, retro appliances in colors like pale pink draw the eye and become a focal point of the kitchen. A Vetrazzo Aqua Current counter top paired with pale pink appliances in the kitchen creates a look inspired by the mid-century modern coastal designs of the 1960s.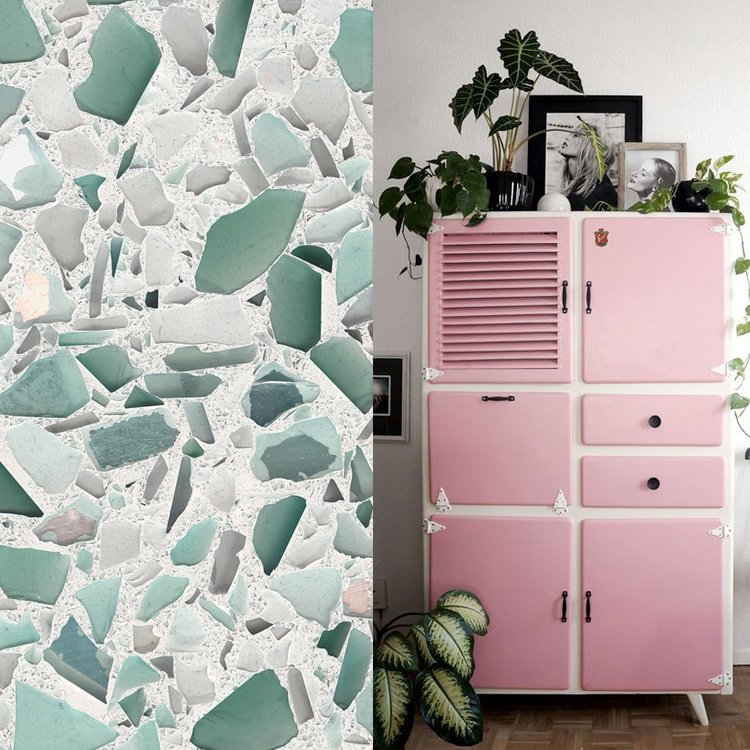 A modern kitchen with vintage inspiration offers charm and contemporary convenience. Give new life to old fixtures and furniture to add collected charm to the kitchen design. María Vázquez Vizoso of Dr. Livinghome Decor gave this vintage kitchen cupboard a makeover with pink paint on the doors. Plants emphasize the beauty of this trend color. Vetrazzo Aqua Current would look both fresh and classic to the time period as a countertop in this vintage kitchen.